Swiss Screw Machining Materials
Looking for a Vendor capable of machining a wide variety of alloys, not just the easy-to-machine metals? From basic metals to exotics, SGP expertise lies in machining a comprehensive array of materials including:
300 Series Stainless Steel
400 Series Stainless Steel
15-5PH, 17-4PH
Hastelloy
Tool Steels
Carbon Steels
Aerospace Steels
Aluminum
Brass
Bronze
Beryllium Copper
Tellurium Copper
Leaded Nickel Silver
Plastics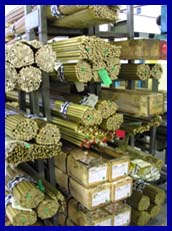 STATEMENT OF LIMITED LIABILITY
THE BUYER OF CONTRACT MANUFACTURING SERVICES FROM THE SELLER (Star Glo PRECISION LLC), UNDERSTANDS THAT EVEN AFTER IMPLEMENTING ALL THE MANUFACTURING AND INSPECTION METHODS KNOWN TO THE SELLER, RISKS STILL REMAIN IN THE PRODUCTION/ASSEMBLY OF CUSTOM COMPONENTS. THE BUYER THEREFORE AGREES THAT SELLER'S LIABILITY SHALL NOT EXCEED THE AMOUNT OF THE CHARGES FOR THE PURCHASED COMPONENT. THE BUYER AGREES AND UNDERSTANDS THAT THIS LIMITATION OF LIABILITY IS NOT AN EXCULPATORY CLAUSE. THE REIMBURSEMENT AND FULL LIABILITY OF THE SELLER SHALL NOT EXCEED THE AMOUNT OF THE CHARGES FOR THE WORK DONE BY THE SELLER IN PROVIDING CONTRACT MANUFACTURING SERVICES.