About Star Glo Precision
Star Glo Precision was incorporated in 1950 and now occupies plant and office facilities of approximately 15,000 sq. ft. at one location. The company is privately owned and is a non-union shop. Star Glo has steadily progressed to a leadership position in Swiss screw machining, conventional CNC machining, sub-assemblies, and full assemblies. 
The company specializes in custom manufactured parts and assemblies selling to both commercial and government markets including Military, Aerospace, Electronics, Inflation Components, Transportation, Welding, Packaging, and Business Machines.


Manufacturing & Assembly:
Star Glo State-of-the-Art CNC Swiss machining department has built its reputation by manufacturing the highest quality custom parts and through dedicated service and programs designed to meet your individual needs.
Our machine shop services and capabilities, include design, engineering, and assembly. Our quality assurance staff is combined with our ability to effectively outsource all raw materials to ensure on time deliveries and the peace of mind to know that all parts and assemblies are made to the highest standards.
Customers Include: General Dynamics, Lockheed Martin, B/E Aerospace, BF Goodrich, Raytheon, United Technologies, Heico Ind., WABCO, Cubic Systems, McDonnell Douglas, Ametek SCP, Meggitt Systems, Gichner Mobile Systems, Sig Sauer, Taurus, Colt, Fairchild Industrial Products, FN Mfg, Scientific Games, The Dept. of Defense, USPS and many others.
Some of the products currently being manufactured are for use on the military Hummer, M16, M40 and M60 Weapons, Submarine Hatch and Muzzle Ports, First Class Bundle Sorting Equipment, and many others.
Complete capabilities guarantee close quality control, realistic shipping dates and very competitive prices. Value-added and sub-assembly services are also available with adequate engineering support and dedicated floor space.
Services:
Precision CNC Swiss Screw Machining, Conventional CNC Machining, Sub-Assemblies, Full Assemblies
Quality:
Our customer relationships are built and maintained on SGP's commitment to quality at all stages of service and production. Star-Glo Precision is ISO 9001:2015 certified. In addition – to assure quality thru all phases of manufacturing we have developed and maintain processes that meet or exceed the requirements of MIL-STD-45208.
SPC data and JIT/IDPO services are available on all products.
Click here to view our ISO 9001:2015 certificate.
Click here to view our Quality Policy.
Click here to view DFAR Compliance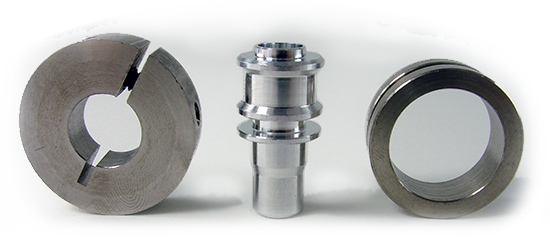 STATEMENT OF LIMITED LIABILITY
THE BUYER OF CONTRACT MANUFACTURING SERVICES FROM THE SELLER (Star Glo PRECISION LLC), UNDERSTANDS THAT EVEN AFTER IMPLEMENTING ALL THE MANUFACTURING AND INSPECTION METHODS KNOWN TO THE SELLER, RISKS STILL REMAIN IN THE PRODUCTION/ASSEMBLY OF CUSTOM COMPONENTS. THE BUYER THEREFORE AGREES THAT SELLER'S LIABILITY SHALL NOT EXCEED THE AMOUNT OF THE CHARGES FOR THE PURCHASED COMPONENT. THE BUYER AGREES AND UNDERSTANDS THAT THIS LIMITATION OF LIABILITY IS NOT AN EXCULPATORY CLAUSE. THE REIMBURSEMENT AND FULL LIABILITY OF THE SELLER SHALL NOT EXCEED THE AMOUNT OF THE CHARGES FOR THE WORK DONE BY THE SELLER IN PROVIDING CONTRACT MANUFACTURING SERVICES.